When my now 18 month old was just starting out on baby food, I discovered

Sprout Organic Foods

. If it wasn't Sprout, she wasn't eating it. I had figured that she was born with a refined palette & the tastes were more suitable to her liking. Plus the fact that she was way more interested in what the rest of the family was eating. That being said, we started on solids relatively early.
Now you can imagine my excitement when Sprout reached out to me on

Twitter

not that long ago. They had some new toddler snacks hitting the shelves & they wanted to know if my little one would be interested in trying them. I was sure she would love them! And me too since we all know that snack time can sometimes get a bit tricky. (You want them to have something that appeals to them while still being healthy.)
We received 4 packages of Fruit & Veggie Crispy Chews:
•Tropical Fruit & Pumpkin
These crisped whole grain rice snacks reminded me of fruit leather meets a granola bar. (Of course I had to try them.)
She loved them! (Like I knew she would) They were the perfect size for her tiny little fingers to pick up from the pouch. And it was also the perfect portion size for her.
We also received 4 packages of Fruity Yogurt Bites:
•Strawberry Carrot Yogurt with banana pieces
•Banana Pumpkin yogurt with banana pieces
•Orange Carrot Yogurt with mango pieces
•Raspberry yogurt with mango pieces
These light, little puffs reminded me a lot of the marshmallows that you find in Lucky Charms cereal. Only a million times better of course, both in taste & being healthier. (Yep, had to try one of these too.)
She loved these too! (As if there was any doubt of it.) Although they were also the perfect size themselves & in portion, she kept standing in front of the cupboard & saying "snack".
You know what that means, right? New household staple. These are especially great to take with us when we have a busy day of errands or that 11:30 a.m. doctor appointment.
But don't worry, you can stock up too without even leaving your computer. Use the coupons below to save $1.00. (Each box contains 5 packages & sells for an average of $5.00 on each site.)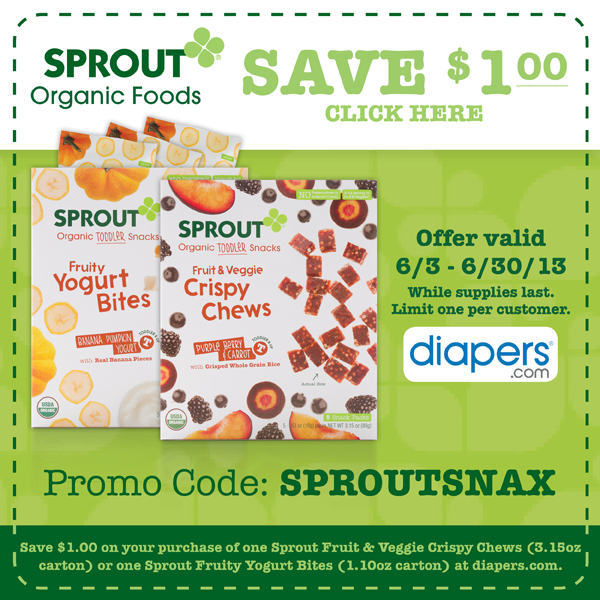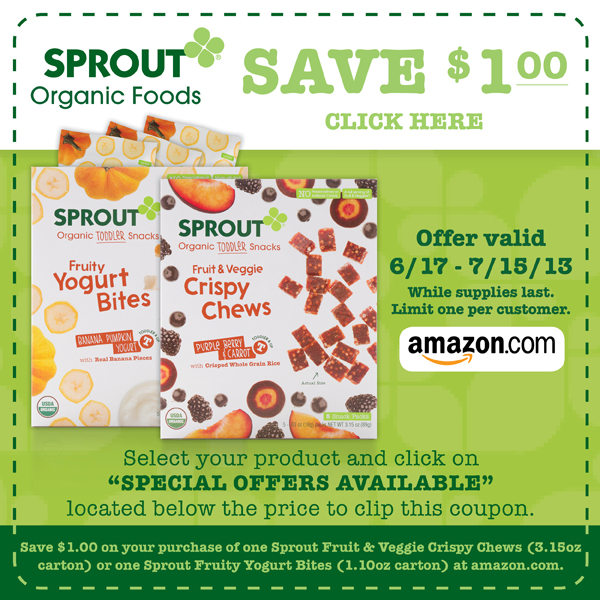 Wait! It gets better! The kind folks at Sprout are offering a giveaway! One lucky winner will win exactly what I received, 1 of each flavor of both the Fruit & Veggie Crispy Chews & the Fruity Yogurt Bites.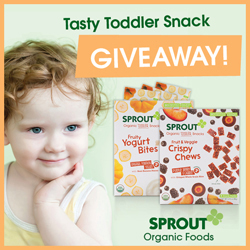 The giveaway will conclude on at 12:00 a.m. est on Friday 7/5/13. Winners will be announced via rafflecopter & in a separate blog post which will be published no later than 9:00 a.m. on Friday 7/5/13. Winners will also be notified via email & announced on the Smith and Blessings

facebook

page.
Winners will have 24 hours to submit shipping information which will then be passed directly to Sprout for product distribution. If 24 hours has lapsed, a new winner will be picked & then will also have 24 hours to submit their information. Giveaway open to U.S. residents only.
a Rafflecopter giveaway
#spon: I'm required to disclose a relationship between our site and Sprout Foods. This could include the Sprout Foods providing us w/ content, product, access or other forms of payment. Check out the new Sprout Foods website at www.sproutorganicfoods.com.