Have you ever attempted to make something in the kitchen but failed miserably (mostly because you only casually glanced at the recipe)? Well, have you ever had the "failure" turn out to be totally amazing?! That's how this Homemade Arribbiata Sauce came about when I attempted to make my own marinara for the first time.
Let me say that I ended up making a ton of sauce. Which was quite alright, because I portioned it out into freezer containers. But then again, I mentioned how totally amazing this turned out so they really didn't last very long. Especially when you serve it over angel hair pasta (that I'm normally not a fan of), with some fresh baked French bread. Holy yum!
So here's my round about way of a recipe...
Please remember to use desired amounts & add or omit any ingredients you'd like, although I highly don't suggest doing so.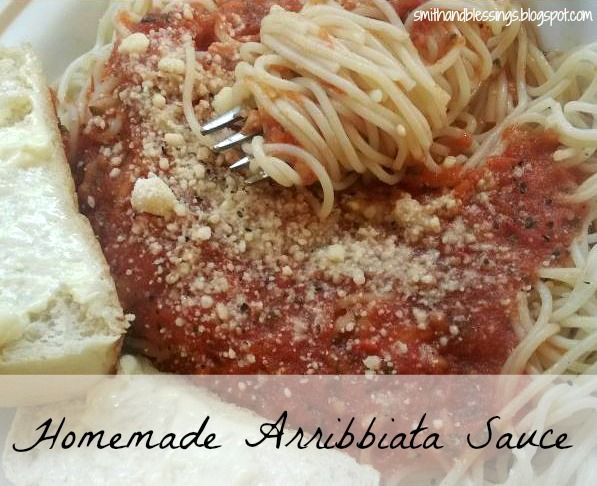 Homemade Arribbiata Sauce
A little bit of sweet, with a whole lot of heat.
Ingredients
whole tomatoes

fresh basil

garlic cloves, peeled

1-2 tsp.

olive oil

1/4-1/2 C.

water, if desired

cayenne pepper

white sugar

garlic powder

salt & pepper
Instructions
In a large pot, combine whole tomatoes (I used fresh but you can use canned if you'd like, just cut back on your simmer time), fresh basil, garlic cloves, olive oil & water if desired (although not necessary).
Allow to simmer, covered, for one hour.
Remove the pot from the heat & allow to cool slightly.
Working in batches, use a food processor or a blender to puree the tomato mixture into a sauce, adding the cayenne pepper during the last batch.
Transfer sauce back into the large pot & bring to a low boil.
Add sugar, garlic powder, salt & pepper (and even more cayenne pepper if desired) to give yourself a slightly sweet but spicy Arribbiata Sauce.
Details
Prep time:
Cook time:
Total time:
Yield: