I make these Things every now & then & they are absolutely delish! I know, I know. You're wondering what on earth I'm talking about. I'm talking about Things! Here, how about I tell you how to make these Things. Maybe that might clear up a bit of confusion...
Of course I made it a bit more difficult to keep up, since I didn't start picture snapping until the next day. It's OK though, I have complete faith in you.
Fry up some flour tortillas in a Tbsp. or 2 of olive oil. The tortilla will start to bubble while it's cooking, just press down when it starts to puff with a pair of metal tongs. This will make sure it keeps most of it's flat shape. Don't forget to flip & get both sides.
See, you want them to look like that. Better put them on a cookie sheet now though.
Next you're going to spread them with a white sauce. Remember I said I didn't start snapping pictures until the next day? Yep, LEFTOVERS! But don't worry, this is how you make it: Saute 1/2-2/3 C. diced onion in 2 Tbsp. butter or margarine. When the onions are translucent, add 1/3 C. flour. Cook just a bit until you have a nice roux, then add enough milk until you get a pudding like consistency. Although I like mine a bit more like tapioca.
Now it's time for meat! You're going to brown 1 lb. hamburger with 3/4 C. onion (or more), drain & season to taste taco-ish. Yes, that is now a word. Definition: when you don't have any taco seasoning, you can substitute anything to make it resemble the taste. Hubs had seasoned this, but I believe he used paprika, Cajun spice & cayenne. Whatever you have on hand will work just fine.
Now put a bit (or more) of diced green chilies on top. Yes, the kind from a can.
Don't forget the cheese! I used cheddar, but whatever you prefer would be fine. Monterey, Colby, pepper jack, all of the above! If you're using a regular salsa or picante sauce, now is the time to add it to your Thing. Then just toss them into a 350 degree oven until your cheese is melty.
Obviously that is minus some salsa or picante sauce. But that's OK because I have...
PICO!!! I made my Pico de Gallo courtesy of my garden (minus the onions). Tomatoes (whichever kinds were red), along with some red & green peppers. Just dice them all up, add some diced onions, salt, pepper & cilantro (fresh is best of you have it, if not, dried works fine). Ideally you want to prepare this the day before to give the flavors enough time to blend. If you are last minute like I usually am, add a touch of lemon or lime juice, shake it up, let it sit 20-30 minutes & call it done.
Spread your pico, add a dollop (or 3) of sour cream & grab your spatula.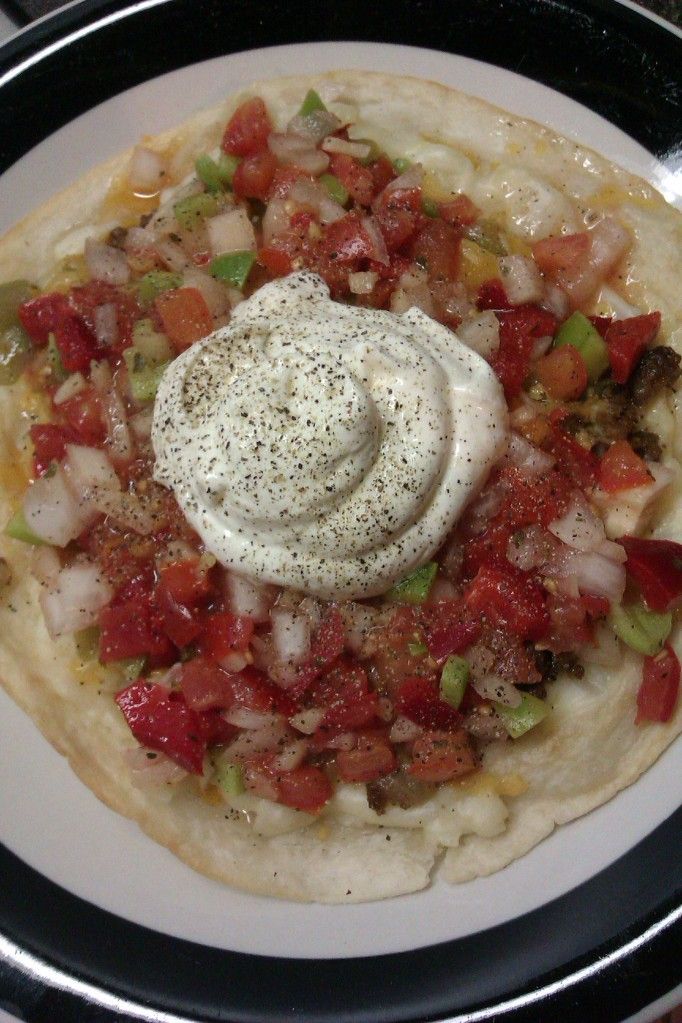 Sprinkle with salt & pepper, grab your fork (precautionary measure), fold if you can & ENJOY! Just don't forget the napkin, you'll need it.
So what do you think about these Things?